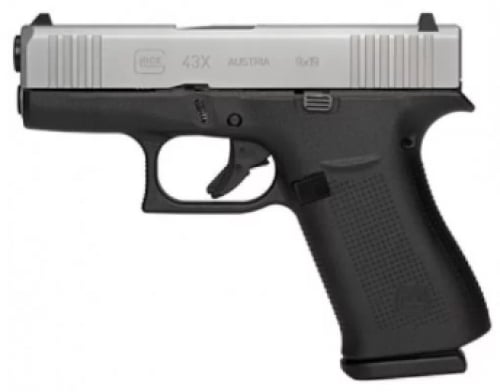 Reviewed By: on 10/09/2020
You can%u2019t go wrong with this item

Reviewed By: on 04/14/2020
Bought this for my wife.. she loves it.. I got to admit I do to..I am more of a double stack guy so I carry a Glock 26. But I would have no issues carrying the 43x.. Buds was easy to work with as always and as always had the best price I could find.. Thanks

Reviewed By: on 03/27/2020
First time using an online purchase and also first time using buds. It was an amazing first time experience! Not only did the transaction go smooth but it was processed, shipped and delivered within 3 days! Even with all this virus craze going on, I'm still looking to get something else from them! 100% recommend this company!

Reviewed By: on 03/18/2020
It's exactly what I ordered, the process was fast and simple. Maryland has a lot of restrictions; buds was aware of that and made sure the firearm i was purchasing was compliment. Overall very happy with the product. It's a glock through and through

Reviewed By: on 02/25/2020
I love this product. User friendly and easy to maintain. Very reliable and accurate from an operational stand point. I know everyone have a personal preference when it come to weapons likes and dislike. However, from a conceal carry the feasible option to meet my needs. Thanks Glock for your innovative ideas and cutting edge technology.

Reviewed By: on 09/13/2019
Lo mejor que e comprado tiene un mango de agarre cómodo y fácil de cargar. Pequeña y recogida fácil de esconder y un arma linda y comoda

Reviewed By: on 07/30/2019
Good gun is comfortable and stable I recommend it 100%

Reviewed By: on 06/07/2019
Shoots every round no matter the round no matter the rounds shape and loads the next EVERY TIME!!! Also please take my advice as a Pistolsmith I see this all the time People will buy Glock's and do all of these "upgrades" to their Glocks Not having a professional do it but doing at them selves after watching YouTube videos. For simple little things YouTube is fine And I do mean simple. But more importantly ALWAYS REMEMBER UPGRADES ARE NOT ALWAYS UPGRADES!!!! Upgrades are generally per competition. The Glock pistol is designed to be used right out of the box as is And only meant to be maintained cleaned & oiled. Many times I've seen and heard people say how their Glock had failed them and jammed or whatever malfunction. The first thing I do is look at their Glock and say that's a sweet looking young what all did you do to it? It sure looks great!! And every single time it is the same thing they start telling me about the Trigger they put in And the firing pin spring they put in and how they upgraded the compensator of the plunger of the extractor. And I tell the truth well you no longer have a Glock. And they 90% of the time say they do these things themselves.

Just remember if you're buying a Glock For Defense or fighting leave it as is when bought new and just maintain it, it will never fail you.

G.M. Dixieland Gunsmithing

Reviewed By: on 05/22/2019
Glock and Buds never disappoint!

Reviewed By: on 03/23/2019
Halo my friends! My gun came in time, (to fast), with no problems. Congratulations you are so good!!! Just came from shooting range. Gun fits my hand perfectly, 500 rounds with no hiccups...all kind of ammunition... very satisfied customer My next gun will be from you as usual... Many regards Sincerely Suad