Customer Reviews for B-27 Eze-Scorer Green Silhouette Paper Target 23x35 Inch Folded 5 Per Package
---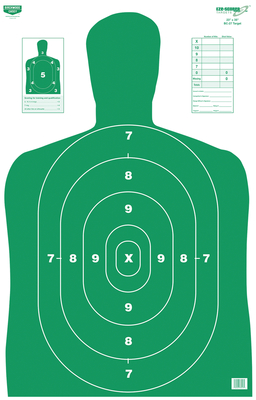 Buy Now
---
As advertised. Works for me.

I really like these targets. They are good life size targets to be able to get a good POI.

Very pleased with these targets. Wanted a larger target to allow the wife to practice center mass shooting from the hip and in low light conditions and the size on this was perfect for just that.

Clear and visible targets, worked well. Cheaper than the range ones. Delivered on time and sooner than they said.

great visibility at distances and very reasonable price

Easily the best paper target I've shot at. The deep green ink contrasts well as a background to my black-with-white-dot Novak sights The bright-white paper is high-quality and heavy-bonded, and doesn't rip easily like recycled paper does. Bud's prices are hard-to-beat, and I highly recommend this paper target for indoor range practice!

Nice target...fun to use.