Customer Reviews for FS Taurus 738 TCP .380 ACP
---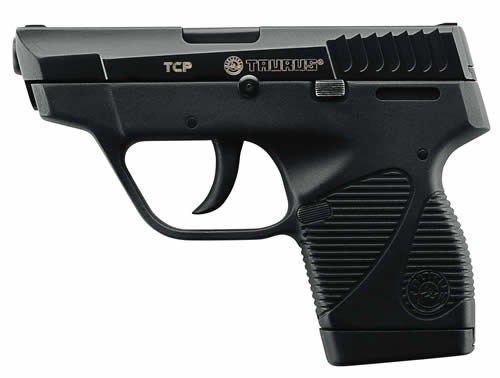 Buy Now
---
Small enough that fits in my entire hand. Great for quick defense.

What a pleasant surprise! This very compact autoloader is so comfortable to carry and fire that it has become one of my two favorite daily carry's. I've modified the mag and grip to allow 8 rounds and an easy hold for my large hand. I've never experienced any malfunction using several different brands of Ammo. While the trigger pull is not the smoothest I've had, it much better than most others in the same size/price category. While many criticize the .380 caliber I firmly believe that the best self defense weapon is the one you have with you most of the time and this small, lightweight fits that requirement! Question is…… why did Taurus stop production?

Excellent "Buds" service...purchase more than fulfilled it intended purpose...shoots well and fits in your pocket. No issues, and if there were Taurus lifetime warranty would mitigate.

I've had this pistol for years and give it 5 stars based on three things. 1. Extremely easy to conceal. It makes the difference between trying to hide a grown up sized gun and going without. 2. It's lightweight. I practically forget I'm carrying it. 3. It is extremely well made. I keep it in a cycling jersey pocket where it's exposed to gallons of sweat and has never seen a hint of rust (The Rugger LCP couldn't make the same claim). Ultimately the price is phenomenal. I figured I would have had to replace it by not but it's still in great shape.

Bought this for a small pocket carry only problems with it are it tends to jamb while feeding sometimes.

The TCP 380 has one purpose and it is concealability. Never had an issue and felt safe carrying. It does have a little bit of snap to it because it is so small, but it works well.

Pros: Seems to be very well built despite the reputation of Taurus products, which I feel is not entirely deserved, and the impression is that it's of higher quality than the Kel-Tec P3AT and at least the equal of the 1st gen Ruger LCP. The trigger is surprisingly smooth considering its a hammer fired DAO gun with light stacking at the end of travel. Very small footprint. Cons: Painful to shoot, a true knucklebuster. Overall: A good, solid, and easily concealed carry piece.

I purchased my Taurus TCP in 2013. Was extremely unhappy with it. It continuously jammed. Customer service was good but it Taurus attempted to fix 3 times. When I received TCP back, still had jamming issues all 3 times. The 4th time, Taurus replaced gun. The new TCP didn't jam. I shot 400 rounds through it and the trigger bar broke. Taurus mailed new trigger bar, I installed and sold the gun. TCP was a nightmare although most of the videos on YouTube showed a good reliable TCP.

Purchased this gun for my wife to carry and she loves it. Perfect size for her to carry in her fanny pack and she loves to shoot it.

Nice little .380. Reliable, easy to carry and conceal.

Great little concealed carry and one of the smallest pistols available.

Not a bad starter gun, especially for the price!

Great gun great service will continue buying from buds

Gun jams quite a bit after 3 or 4 shots. Tried cleaning. Otherwise nice and compact. Fits perfectly in any purse so I'm able to easily access and I know I'll get at least 3 shots off before it jams!

A lot of people talk trash about Taurus but they do have some very good weapons. This pistol is very reliable. As always Buds was great.

Perfect CHL pocket pistol... shoots straight, easy on your hands, reliable, and will eat any brand ammo with ease.

It is very comfortable and concealable. Mine sometimes fails to chamber defensive ammunition, like the plastic tips. Regular ball full metal jacket feeds and chambers fine. Debris can collect in the recessed hammer. However, it is pretty easy to disassemble and clean. Keep the feed ramp polished and the junk out of the hammer. It is not my favorite pistol, but it was a good price and I'm glad to have .380 in my inventory.

One of 3 Taurus pistols. Where I go the 380 goes until I start toting the 9mm. Great little gun for up close. Never misfired. Great protection.
Thanks
Kenny


excellent product
needs external safety

the gun isn't great, very cheap feeling, jams up a lot, and overall is just a second rate weapon, but the service was great, got sent to my dealer within a week and i got exactly what i wanted. Bud's was great and i would 100% buy from them again.

These are great pocket guns and it's hit or mess on if you get a good one or not. The one I got this time was simply not a straight shooter. I've had two others in the past that were flawless and deadly accurate.

Good little pocket gun. Not real accurate at more than about 5 yards but I am not expecting to have to use it at any great distance.

Not a bad lil gun, handles well. I like the hold open on last round feature. Doesnt like crappy ammo that's for sure. Mine anyways.

This weapon was almost not functional. I ran four different kinds of ammo through it and never got through a magazine without a failure of several failures to feed.

Saved my health one scary night. So yes I trust it with my life especially with Hornady American gunner