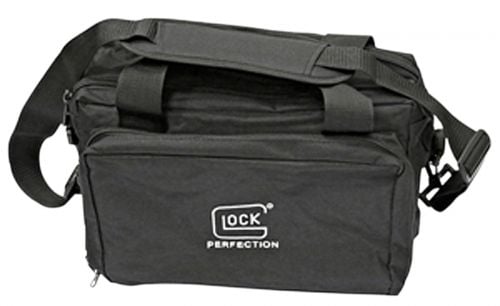 Reviewed By: on 09/16/2020
This bag was VERY handy at the range. I was able to fit everything I needed (4 handguns with ammo and extra magazines) and it wasn't too bulky or in the way.

Reviewed By: on 06/03/2020
Love this bag!! Good buy....I can get everything I need in ot to go to the range

Reviewed By: on 04/27/2020
This bag is better than advertised love it.... not too big not too small just right....

Reviewed By: on 09/13/2019
It's a really great bag, I only wish it had more than six magazine storage on the side. There is plenty of room for additional gear along with individual spaces for your Glocks, or any other hand guns you may be hauling to the range. The stitching is of high quality along with the ergonomic shoulder strap. The price was very reasonable for the quality of the bag, but then it's Glock Perfection!

Reviewed By: on 05/19/2019
BEST GUN BAG OUT THERE AT THE BEST PRICE! THEY HOLD MUCH MORE THAN 4 pistols and ammo/mags

Reviewed By: on 12/11/2018
perfect size range bag can fit all the 💩 i need in it for a day at the range

Reviewed By: on 03/05/2018
This range bag is a winner! When I go to the range I am now able to carry 4 guns in one bag plus ammo. The price on this is great, and I don't regret my purchase. I shop more now at Buds than I do anywhere else! Keep the good prices coming Buds!

Reviewed By: on 01/07/2016
Great product....great price....quick delivery!! Couldn't ask for more!